Dell Command Update is a powerful tool that helps to keep your computer up to date.
It simplifies the process of updating your device's drivers, BIOS; and firmware. These are essential components that are necessary for the smooth running of your computer; keeping them up-to-date can help to prevent potential issues that could occur over time.
Dell Command Update allows you to easily scan your system for updates and install them with just one click. It even has an automatic mode that will download and install updates without you having to do anything else. This makes it an incredibly useful tool for those who don't have the time or know-how to manually update their system.
In this article; we'll take a look at Dell Command Update and break down what it does so that you can get the most out of this powerful tool.
Introducing the Dell Command Update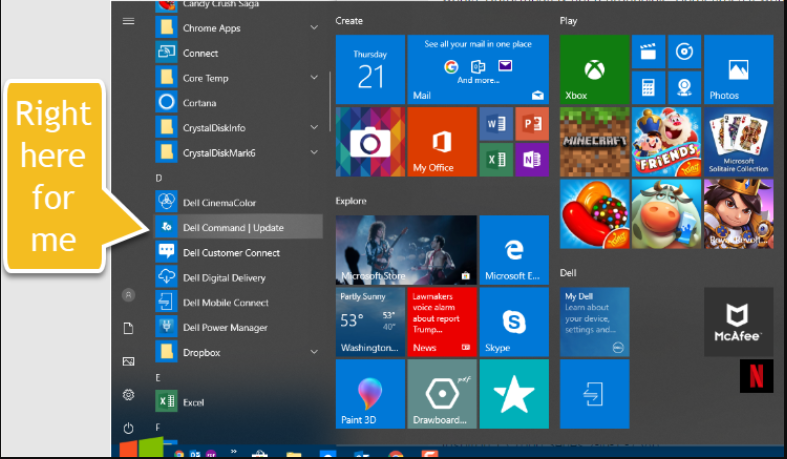 The Dell Command Update is a tool for Dell systems users to simplify and streamline the system update process. It is a Windows-based application that can automatically check for and download important updates from the internet. It can also be used with additional Dell applications like Dell SupportAssist, Dell Drivers and Downloads, etc. so that all software related to your system can be kept up-to-date.
The main benefit of using the Dell Command Update is that it eliminates the need to manually search for and download updates for your system. This saves users time when it comes to keeping their systems up-to-date with the latest patches and fixes. Furthermore, as this tool automates the update process, it also ensures that users never miss out on important updates or patches.
Lastly, as the Dell Command Update carries out its functions through a command line interface; some users may find it an easier way to manage their system's updates; than manually downloading and applying updates from various sources. With its ability to automatically detect and install updates; this useful tool simplifies the entire updating process with just a few clicks of the mouse.
The Different Scan Types Available
Dell Command Update is an automated update program that periodically scans your system and searches for applicable updates. With Dell Command Update; you have the option to choose between three different scan types: Express Scan, Custom Scan, and System Scan.
The Express Scan feature is the most basic of the three options; it searches only for essential drivers and BIOS updates. The Custom Scan provides a bit more flexibility; you can pick and choose which hardware devices or software programs to search for updates. Finally; the System Scan option scans your entire; system looking for any type of available update or driver.
No matter which scan type you select, Dell Command Update searches for applicable Dell-certified system drivers, BIOS updates; and other applicable software from Dell Support. After the scan is complete; the updates are then listed in a window; where you can select those you wish to install or decline those you don't need to install.
How to Install Dell Command Update
Installing Dell Command Update is a straightforward process that only takes a few minutes.
First, download the Dell Command Update software onto your computer. This can be done using Dell's Support site or manually from the Microsoft Store. Once you have the application file; double-click to run it. The application will then guide you through the installation process; which may include accepting license agreements and setting preferences. At the end of the installation process, simply click "Finish" to wrap up.
Dell Command Update is designed to be user-friendly and intuitive to use. You can configure it to scan for updates on a regular schedule and keep your system up-to-date automatically. It will also let you choose which drivers and BIOS updates are installed on your system; so you always have control over what's going on with your system's hardware and software components.
Benefits of Using Dell Command Update
Using Dell Command Update (DCU) offers a number of benefits over traditional software update methods. DCU focuses on providing a streamlined, automated process for downloading and installing Dell driver updates, freeing up IT staff's time for more important tasks.
DCU also offers the following benefits:
Automated driver update process that minimizes user intervention
Easy-to-use interface for IT staff to manage and monitor the system
The comprehensive inventory of drivers that covers all Dell products
Built-in scheduling capability for remote management of updates
Support for custom drivers and remote deployment of drivers
Automated backup of existing drivers in case rollbacks or uninstallations are necessary
Ability to manually download individual drivers without scanning the entire system
Ability to view detailed information about each driver, including name, version, release date, and more
Access to learning resources to help users understand the product better
With these advantages, it is no wonder that Dell Command Update is an increasingly popular choice among enterprise IT departments looking to streamline their software updating process and reduce their workloads.
What Drivers Does It Support?
Dell Command Update (DCU) offers comprehensive access to drivers, BIOS, firmware, and software updates for Dell products. It supports a wide range of Windows operating systems, including Windows 8. x, Windows 10, and Windows Server 2019/2016/2012/2008.
DCU is designed to simplify the process of installing the most up-to-date drivers, software, and other components on a Dell system. It automates the identification and installation of more than 620 available updates; for all Dell devices connected to a local network or via the Internet. It also enables proactive monitoring of Dell products; enabling notifications of new driver releases.
DCU supports all major device categories on Dell systems, including:
laptop and desktop computers
monitors
tablets
printers
TVs
projectors
antivirus programs
storage systems and devices
DCU can detect any compatible system components by scanning Dell's database of hardware part numbers and model numbers for a system's specific configuration. This helps provide users with the most optimal version of each driver for their system, ensuring maximum performance at all times.
Troubleshooting & FAQs
Dell Command Update (DCU) is an automated update utility that can detect and install the latest drivers, BIOS, and firmware for your Dell products. It also provides a comprehensive FAQ section and other helpful tips to troubleshoot any DCU-related issues.
Using DCU is simple: once it's installed on your system, you can set it to run on a schedule or initiate a manual scan process. The system will then search for the updates released by Dell for your specific system or product and install them as required.
In the event of any issues, the Dell FAQ section provides useful information on how to diagnose and resolve any potential problems. This includes troubleshooting steps such as how to turn off silent/background mode without uninstalling DCU, what to do if the download speed is too slow, or if there are compatibility issues with certain third-party tools or applications.
Overall, Dell Command Update provides a convenient way to keep your system up-to-date with the latest updates released by Dell while enabling users to quickly troubleshoot common issues related to the software.
Conclusion
In conclusion; the purpose of Dell Command Update is to keep the necessary drivers and firmware up to date in Dell systems; making sure that the system is running properly and efficiently. By using DCU, you can update drivers without any issues and save time that you would spend downloading and/or searching for drivers. DCU also allows for the customization of drivers; allowing for further optimization of system performance. Ultimately, Dell Command Update provides a powerful and convenient way to update drivers and firmware on Dell systems.